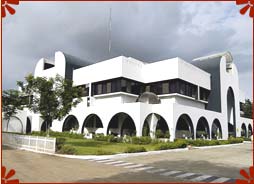 Jalgaon is located at the Northwest part of Maharashtra. Patnadevi, Omkareshwar Mandir, Ecchapurti Ganesh Temple are the main attractions. This place is a major centre for trade and agriculture. Best time to visit is October to February. The World famous Ajanta cave is only 50 km away from here.
Tourist Attractions
Patnadevi
This birthplace of great scientist Bhaskaracharya has many ancient religious places.
Omkareshwar Mandir
This Lord Shiva temple is the most famous and beautiful temple in Jalgaon. Shivratri, Shravni Somvar, Ramnavmi, Gokulashtami are the biggest festivals celebrated in this temple.
Ecchapurti Ganesh Temple
This temple is situated at Navi Peth, near Balaji Sweet Mart in Jalgaon. On every Ganesh Chaturthi many devotees visit this temple.
Mahatma Gandhi Garden
Having many different flowers and spreading over a vast area, Mahatma Gandhi Garden is a beautiful garden located near New Bus stand.
Mehrun (Park)
Mehrun is one of the oldest parks located in the centre of the city on Shirsholi road. Late Shri Prithvirajji Kapoor (renowned film artist) inaugurated the park. This park is a perfect site for Sunday hangouts.
J.K Park
Rabbits, parrots, types of sparrows are among the main attractions of the park. Mehrun Talaav (pond) is another attraction of the place. The pond is so cool. Water in this pond is always full throughout the year.
Around Jalgaon
Padmalaya
Also known as Prabhakshetra, this religious place is located in Erandol Taluka about 4.8 km from Erandol. It is famous for the temples of Lord Ganapati and Hanuman.
Swinging Towers of Farkande
Locating at a distance of 16 km from Erandol on the bank of Utawadi River, Swinging Towers are a real great example of old day's construction technique. This tower is 15m high and it is believed that it was constructed 250 years ago.
How To Reach
Nearest railway station is at Bhusawal (25 km). State transport plies buses to Jalgaon from almost all the important cities of the state.
Accommodation
Jalgaon has well equipped with excellent accommodations.
General Information
Population: 368579 (1991 Census)
Climate: Tropical
Temperature Range (Deg °C) Maximum Minimum
Summer: 45° C 29º C
Winter: 26° C 6º C
Clothing: Cotton
STD Code: 03566/0257
Nearby Cities
Ajanta: 50 km
Bhuswal: 25 km
Burhanpur (Madhya Pradesh): 79 km
Aurangabad: 153 km