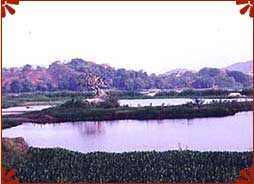 Having nearly around 23 lakes, Thane is popularly known as the 'City of Lakes' in Maharashtra. Talao Pali Lake, Upvan Lake are the most important most crowded lakes of the city.
It is believed that Rankala Lake in Kolhapur is the oldest of all lakes in Maharashtra. Ramkunk Lake in Nashik is popular, as it is believed that Lord Rama and Sita used to take bath in this lake during their exile.
The Mushi lake near Lonavala, Venna lake in Mahabaleshwar, Khindsey and Ambazari lakes near Nagpur, Lonar lake in Buldhana district, Pashan and Pimpri lakes in Pune and the Tansa, Tulsi, Vihar and Powai lakes in Mumbai are the lakes which attracts lots of visitors and popular as picnic spots where tourist groups often go for excursion on weekends and holidays.