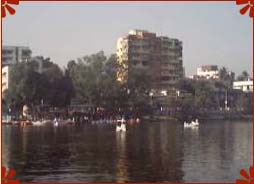 Thane is a northern district of Konkan Maharashtra. Known as 'Cacade De Tana', its original name is Sristhanaka, named after Lord Ganpati. Best time to visit the city is November to March. Being a residential suburb of Mumbai, Thane has number of large industrial complexes of chemicals, engineering products, and textiles. There are several historical buildings, including a fort and several churches.
Important Tourist Attractions
Masunda Talao
Thane has as many as 23 lakes. Out of this, Masunda Talao is the most important and beautiful lake. Water scooters and other boating facilities are available in this lake for a perfect time pass. This is also an ideal place for food lovers.
Yeoor Hills
Also known as the 'Mama Bhanja Hills', Yeoor Hills is a pollution free zone. One can take a rest here from the hassles and hazardous life of the metropolis. One must also visit Swami's Math.
Essel World
This amusement park, which is located at Gorai offers 34 rides that comprise of roller coasters, rainbows, bumping cars. Tourists can reach the park from Marve, Bhayander or Borivali. Special bus services are there to reach this place. Water Kingdom is just next to Essel World, which claims of having the largest wave pool in Asia.
Around Thane
Bassein (Vasai)
It is located on the western coast at a distance of about 48 km to the north of Mumbai. Ruins of Portuguese time amidst palm groves and brushwood are worth to be seen. The area has also a fine beach.
Titwala Ganesh Mandir
It is sacred pilgrimage site as it has Mahaganesh Temple and the temple of Shri Vithoba. There is also a beautiful Ambarnath temple, dating back to the 11th century, which was built in the 'Hemadpanti' style of architecture.
Suddhagad Fort
This fort is one of those forts, which are still in good condition. Sudhagadh Fort is located near Pali- a famous pilgrimage centre in Maharashtra. It can be covered during a trip to Pali and Mahad in Ashtavinayak.
Jawhar Palace
Because of its unrivaled beauty and salubrious climate, it is called the 'Mahabaleshwar of Thane District'. Majestic Dadara Kopra Falls, Jai Vilas, the palace of the tribal kings, Hanuman and Sunset Points and the enthralling Shirpamal, where Shivaji chose to camp on his way to Surat are the places to be seen here.
Matheran
Situating at an altitude of 800m Matheran is a charming hill-station in Alibag district. It is about 80 km away from Mumbai. Matheran is the closest hill station to Mumbai and Pune. Perched on top of a hill and enveloped in shady trees, Matheran is ringed by walking tracks. The views from the look out, which drop sheer to the plains, is fantastic. It is even possible to see Mumbai from Hart Point on clean days.
How Reach Thane
Nearest airport is at Mumbai (25 km) and the international airport 35 km from the main down town Mumbai. Thane has a railway station and many trains pass connecting it with the major cities of Maharashtra. It is well connected by road as well.
Accommodations
Government and private hotels are available at Thane.
General Information
Population: 803,389 (1991 census)
Climate: Tropical
Summer: 32.37°C to 34.57°C
Rainfall: 250 - 300 mm
Clothing: Light cotton
Nearby Cities
Bassein (Vasai): 48 km
Titwala: 110 km
Matheran: 105 km
Ganeshpuri: 110 km