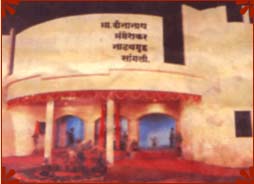 Sangli is a major city in Western India 390 km from Mumbai and 700 km from Bangalore. Sangli is known for its turmeric trade, grapes and sugar factories. Sangli is also a major education and healthcare centre.
Sangli has developed itself as a is now a modern city with broader roads, major railway junction, cyber-cafes, hotels with multi-cuisine, very good education, healthcare, telecommunication and entertainment facilities. A Software Technology Park is being set up in a prime location of the city.
Tourist Attractions
Gokak Water Falls
It is at a distance of only two hours drive from Sangli. The best time to visit this falls is between June to October as there is plenty of water. There is a swinging bridge on the waterfalls.
Sagareshwar Wild Life Sanctuary
It is just 30 km from Sangli. Deer, jackals, rabbits, peacocks, wild goats, wild cows, leopards are the wild animals of this sanctuary. There are also ancient temples of Lord Shiva.
Dandoba Hill Station
Locating at the Miraj-Pandharpur Road, Dandoba Hill Station is just 25 minutes drive from Sangli. It is located around Dandoba Hills, which is a reserve forest area. There are also some historical ancient temples on the hills.
Chandoli Forests
Chandoli region, which is about 65 km from Sangli has animals like monkeys, deer, wild goat, rabbits, tigers, peacocks, snakes. You can also visit the Chandoli dam. In the rainy season, you find this place lush green with some small waterfalls.
Audumbar
Audumbar is a holy place about 25 km from Sangli city. A sacred temple of Lord Dattatraya is located on the banks of Holy Krishna River. Thousands of devotees from all over the world visit Audumbar every year.
Mahabaleshwar
It is just 4 hours journey from Sangli. Mahabaleshwar is also known as the Queen of all Hill Stations. This hill station is situated at an altitude of 1,372m in the heart of Sahyadri Hills in Satara District. Its name is derived from a Lord Mahadev temple and three Sanskrit words, Maha (great), Bal (power) and Ishwar (God). Some people also relate the name with mythological past as the name 'Mahabaleshwar' means mighty God.
Bahuballi Hill Temples (Kumbhojgiri)
Bahuballi is 50 minutes drive from Sangli. Bahubali Hill Temples are located 27 km south of Kolhapur, Maharashtra on the Bahubali Hills. Huge devotees thronged the temple to worship the 28-feet tall marble statue of Bahubali and visit the temples of the 24 Tirthankaras or saints. These hills are popularly known as 'Kumbhojgiri'. A Celibacy Resort was established in 1935 and named after the sage Bahubali who mediated here about 300 years before.
Pandharpur
Pandharpur is 4-5 hours drive from Sangli by road. This place is one of the most revered pilgrimage sites in Maharashtra. Pandharpur preserves Lord Vithoba's image in a grand temple. Vithoba is a form of Krishna. The name Vithoba means Father Vitthala. Vitthala is said to have been derived from the word Vishnu in Kannada.
The worship of Vishnu - Vitthala at Pandharpur is derived mainly from the puranas and has been augmented by the contribution of the great Vaishnava saints of Maharashtra from the 13th to 17th centuries (Namdev, Jnaneshwar, Eknath, Tukaram).