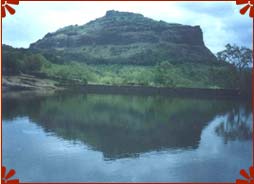 Dudhsagar waterfall, Thoseghar waterfall, Lingmala fall, Dhobi waterfall, and Chinaman's waterfall are the important waterfalls in Maharashtra. Dudhsagar waterfall, situated at Someshwar is a favourite destination for youngsters where they come often to liven up their spirits. This is one of the best picturesque spots in Nashik. The waterfalls are 10m long and the water is milky white, so it is called Dudhsagar waterfall.
Thoseghar, near Satara is famous for its serenity, clam and quiet nature. It is a newly developing picnic spot. Thoseghar is really a wonderful place where one can enjoy the beauty of the nature. July to November is the best season to visit Thoseghar. Dark woods and a clean lake add to the beauty of this hilly region. There are also other small waterfalls here, which are about 15-20 meters high. The highest one is of around 500 meters. Satara is on the Pune - Bangalore Highway, and is about 115 km from Pune.
Lingmala Falls, Dhobi Waterfall, and Chinaman's waterfall are the waterfalls in Mahabaleshwar. July to December is the best time to see these waterfalls. Venna Lake is not far from here, which is on the way of Panchgani. Dhobi Waterfall is on the bridle path connecting Petit Road with Old Mahabaleshwar Road near Lily Cottage.
Chinaman's Waterfall is on the Carviali Road, which can also reach by the Tiger Path Road or from Babington Point. Chinese convicts to cultivate the adjoining fields formerly used it; hence the fall is known by this name. Mahabaleshwar is 120 km from Pune via Panchgani.