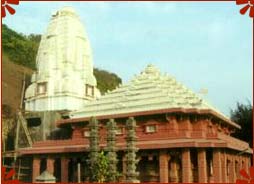 Ratnagiri is located on the southwestern part of Maharashtra on the Arabian Sea Coast. It is surrounded by beautiful hills of Sahyadri ranges. It was once the administrative capital of Bijapur rulers.
It came under the control of Satara kings in 1731. Ratnagiri was surrendered to the British in 1818. A fort was built during the Bijapur dynasty and strengthened in 1670 by the Maratha king Shivaji, which is located on a headland near the harbour. It is one of the important ports of the Konkan coast. It has a palace where the last king of Burma, Thibaw, and later Veer Savarkar, were confined.
It is also believed that the Pandavas having performed their pilgrimage on the 13th year had settled in the adjoining territory of the Ratnagiri district and when the Pandavas and the Kauravas had the famous war at Kuruskshetra, the king of this region Veeravat Ray had accompanied then there.
Tourist Attractions
Parashuram Temple, Pavas and caves of Chiplun, Khed, Dabhol, Sangameshwar, Gauhani Velgaum and Vade Padel are the main attractions of Ratnagiri.
Ganapatipule
Ganapatipule is about 25 km from Ratnagiri and around 375 km from Mumbai. The waters of Ganapatipule are crystal clear and pristine. The entire stretch of beach is covered with fresh greeneries. The roadside sceneries on the way to Ganapatipule are captivating with narrow roads, red soil, roofed houses, clean courtyards, innumerable fruit bearing trees and casuarinas lining.
Ganapatipule is regarded as one of the most the important beaches of Maharashtra. Fine, sifted, silver sands, a gentle lapping sea, which soothes frayed nerves, attracts large number of tourists are the features of this beautiful beach. It is regarded as a beautiful seaside resort of today-especially for families in Maharashtra.