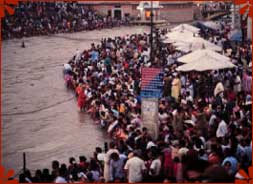 River Ganga is known as Tripathaga, or the 'Three Path River', as it is believed that the river flows in three worlds - in heaven it is called Mandakini, on earth the Ganges (or Ganga), and in the nether region the Bhagirathi.
It is believed that King Bhagirath after performing terrible severity brought Ganga to earth. On the tenth day of the bright half of Jyeshth, Mother Ganga began to flow from heaven to the entwined hair of Shiva. So, from the hair of Shankar, she began to flow to earth.
It is a belief of the Hindu religion that bathing in the Ganga washes sins away. So, the first ten days of the month Jyeshth (May-June), which is known as Dashahara, are dedicated to honour the river Ganges.