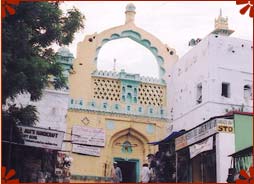 Also known as 'Valley of Saints', Khuldabad is located at distance of about 3 km from Ellora. A large scale Sufi had been migrated to Khuldabad in 14th century, as several Sufi saints of the Chishti ordered to reside Khuldabad (Abode of Eternity).
There is the Dargah, or tomb of Moinuddin Chishti, the spiritual guide of the Mughal emperor, Aurangzeb, within this sacred complex. Aurangazeb's tomb is also there near the tomb.
This simple tomb remains as an eloquent evidence to the staunch faith and Spartan lifestyle of this pious Muslim ruler. The tomb was constructed only with the few rupees he had earned by stitching cloth caps.
"No marble sheets should shield me from the sky as I lie there one with the earth" is the line, which is inscribed on his gravestone elegantly in Persian calligraphy.
Nearest airport is at Aurangabad and Jalgoan. There are regular buses between Aurangabad and Ellora.