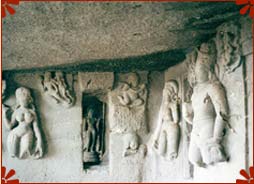 Aurangabad Caves
Aurangabad caves are just a few kilometers away from the famous monument of Bibi Ka Maqbara. These caves are believed to be excavated between 2nd and 6th century AD. Aurangabad caves are carved out of the hillside and are a fine piece of architecture. A major chunk of the caves in Aurangabad are Viharas. Total number of caves is twelve; out of which cave number 3 and 7 are the most fascinating ones. Cave number 1 to 5 are in the western group and caves from 6 to 10 are in the eastern group. Tantric influences are noticeable in Aurangabad caves.
Bibi Ka Maqbara
Bibi Ka Maqbara is situated 5 km away from Aurangabad. Aurangazeb's son, Prince Azam Shah built it in 1678 in the memory of his mother Begum Rabia Durani. This mausoleum is a replica of the famous Taj Mahal. Despite the layout and surrounding of the tomb is very much similar to Taj Mahal, somehow the architecture fails to produce the magic of the Taj. Hence, it is considered to be a poor imitation of the Taj Mahal.
Himroo Factory
A workshop in Aurangabad's Zaffar gate is continuing the conventional style of Himroo hand weaving. The workshop also maintains a show room to showcase these products. Here, one can see and shop Himroo shawls and sarees. Bold patterns and colours are the specialities of Mashru fabrics. It is said that Marco Polo has been gifted a fabric woven in silk and gold threads.
Panchakki
There is also a shrine of a saint, Baba Shah Musafir at the site where panchaki is situated. Panchakki (Water Wheel) derives its name from the mill that was used at the early days. The mill is driven with the water brought through earthen pipes from the river 6km away.