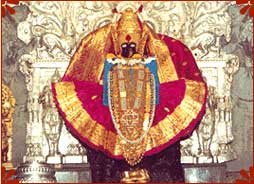 Mahalaxmi Temple
This beautifully architect temple attracts huge devotees from in and around Kolhapur. Goddess Mahalaxmi also known, as Amba Bai is the presiding deity of this temple. Images of Kashi Vishweshwar, Kartikaswami, Sheshashayi, Siddhivinayak, Mahaswaraswati, Mahakali, Shree Dutta and Shree Ram are also there inside the temple complex. Chalukya ruler, Karandev started the construction of this temple in the 7th century AD and later beautified by Shilahara Yadavas in the ninth century. The sanctum sanctorum has revered idol of the goddess weighing 40 kg. The idol has not been fashioned by any human being but exists in its natural form - a primeval monolith of uncut diamonds and precious stones.
New Palace and Chhatrapati Sahu Museum
Built in 1884, it is also known as the Maharaja's New Place. Major Mant designed the palace. The architecture of the palace is a combination of Jain and Hindu influences from Gujarat and Rajasthan, and local Rajwada style. The first floor is for the present Maharaja, while the ground floor is dedicated to a fine collection of costumes, weapons, games, jewellery, embroidery and paraphernalia such as silver elephant saddles. A letter from the British Viceroy and Governor General of India is the other memorabilia. Shahaji Chhatrapati Museum is in the New Palace. Curious and interesting collections from the possessions of Maharaja Shahaji Chhatrapati like guns, trophies and clothes are preserved here.
Town Hall Museum
Old sculptures, filigree work in sandalwood and ivory, old coins and paintings of master artists of the region are displayed in the museum, which were found during the excavations at Brahmagiri.
Old Palace
Old Palace has a temple of the goddess Bhawani as well. This magnificent structure has an impressive marqee with filigree work in stone. This palace is located behind the temple of Mahalaxmi Temple.
Rankala Lake
Rankala Lake is said to be the oldest of all lakes in Maharashtra. There is the Rankabhairav temple at the center of the lake. Its name is derived from this temple.