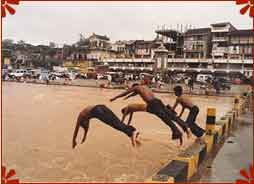 Ramkund
Chitrarao Khatarkar built Ramkund in 1696. This holy tank is 27 m by 12 m in area. It is believed that Rama and Sita used to bath in this tank during their exile. People bring ashes of their deceased relatives and immerse it in this holy tank. People of Hindu faith believe that the departed souls would attain moksha or liberation by doing so. Ashes of big personalities like Pandit Nehru, Indira Gandhi, Y B Chavan and others have been immersed at Ramkund.
Muktidham Temple
The temple is of pure white; the colour signifies holiness and peace. Muktidham is just 7 km away from the city. The Temple is built with white makrana marble. The architecture of this temple is known to be very unusual. 18 chapters of the Gita are inscribed on the walls, which is a very unique style of this temple. A visit to this temple by Hindus is considered as a visit to the 4 dhams or holy centres.
Coin Museum
The museum has a fine collection of research and well-documented history of Indian currencies. Coin Museum was established in 1980 under the Indian Institute of Research in Numismatic Studies. This museum is the only museum of its kind in Asia. The environment of the museum is so cool, as it is located in the backdrop of the enthralling Ajneri Hill of Nashik.
Pandavleni Caves
Pandavleni caves are 2000-year-old, and it was built by the Jain Kings. It is a group of 24 Hinayana Buddhist Caves, which date back between 1st century BC and 2nd century AD. These caves are at a distance of 8 km from Nasik. Amongst all, cave number 3 and 10 are the best. Cave number 3 has a large Vihara with fascinating sculptures, cave number 10 is also a Vihara, but it is much older and finer than the cave number 3. It is believed to be as old as the Karla Cave near Lonavala.
Someshwar
There are temples of Lord Shiva and Lord Hanuman on the banks of the river Godavari at Someshwar. This is a very green place as well as the climate is so cool. One can also enjoy swimming and boating here. Because of its serene beauty, this place is favourite for film shootings. There is a village named Anandwalli on the way to Someshwar. There is Navasha Ganapati Temple in this village.
Deolali Camp
Deolali Camp was established in 1861, which is one of the oldest military centers in India. Deolali market is famous for shoppings inside the military centre. On the nearby hill, there is Khandobachi Tekadi Temple. Exhausted and mentally stressed armies were sent to this place for giving rest during British time. The area surrounded with gardens, playgrounds and wide roads proves its uniqueness.
Artillery Centre
It is situated behind the Pandav Caves. It is the biggest Artillery Center in Asia. The center had been shifted from Pakistan in 1947, and is now completing its 50th year. Officers and soldiers of Indian Army are trained here. Training for 'Bofors Gun' too is given here. The area is under military restriction.
Takli
Takli is connected to the Guru (teacher) of Chatrapati Shivaji, saint Samarth Ramdas. 'Simple living and high thinking' was the mantra what he was preaching. He also promoted the Hindu religion. Ramdas ran off from his marriage life and settled down at Takli for meditation. He was a devotee of lord Ram and meditated with the words Shriram Jai Ram, Jai Jai Ram for 13 crores times in 12 years. Ramdas Swami's ashram is preserved in his memory at Takli. There is also a Hanuman Temple on the bank of river Nandini or Nasardi.