Pune has developed as a major industrial zone and so is a reflection of a booming economy of Maharashtra. This is probably a prominent reason why Pune is flourishing as a shopper's paradise. This city is economically developing due to the set up of various automobile manufacturing companies, like Bajaj, Tata, Force; here. This rise indeed helped in establishment of finest shopping malls, budget buying areas and elegant shopping destinations in the city of Pune. These shopping areas in Pune serve to the needs of a huge number of people with the wide available choices for all kinds of goods. Since, stuff in all price ranges can be found here, one can find goods here according to their budget. Some of the best buys of this place includes Rice flakes Chiwda, Cornflakes Chiwda, Potato Chiwda, Chitales's Bakarwadi and Mango Barfi from Laxminarayan Best Chiwda. Also, Pune is a nice place to pick up some ethnic slippers, though Kolhapuri Chappals can be purchased from roadside vendors.
Just in case you are tempted to shop at Pune, here goes the list of famous shopping areas in Pune.
Tulsi Baug
is a noisy and unorganized market area with temporary stalls and lined shops. But here, tourists can get household items; jewellery, Maharashtrians traditional wares, pearl nose ring, necklace and the nine-yard sarees from this busy market.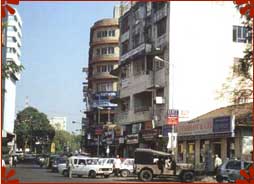 Chhatrapati Sambhaji Nagar
(Deccan Gymkhana) is so small market place on the other side of the river Mutha that one can easily cover within 15 minutes. This area has full of shops for fruit, leather items, gifts, food, shoes, and furniture. There is a lane called Hong Kong lane that sells trinkets, cosmetic jewellery, cassettes and flowers. Sweetshops of this marketplace are famous for its sweet pedas, barfis and amrakhanda as well as spicy bhakar wadis and saurali wadis.
Juna Bazaar or Old Market
is a place for accessories like necklaces, screwdrivers and door hinges. Antique coins are casually sold here. Even many of the denizens of Pune are unaware of this, but foreigners and amateur coin collectors are familiar with this street. Worn out trousers, old silk saris and even second hand floppies are available here. Juna Bazaar runs every Wednesday and Sunday on a part of the Vir Santaji Ghorpade Path, near Maldhaka Chowk.
Laxmi Road
is mainly famous for its garment shops for all weathers and its purses. It is said that a visit to Pune is incomplete if you have not visited Laxmi Road once. This place too is a very busy and noisy place. The market road is nearly 4 km long. It starts from the Alka Talkies Square and runs right through the old city terminating at the Cantonment area. Laxmi Road is not opened on Mondays and in the afternoons.
Mahatma Gandhi Road
is a place with big stores. There are also temporary road stalls mostly selling garments along these big stores. If visitors feel hungry, there are also plenty of food stalls and ice cream parlours on this road as well as in nearby areas. Mahatma Gandhi Road, like Laxmi Road is also one way. This place is wonderful for evening hangouts. It is closed on Sundays and in the afternoons.
Fashion Street
of Pune is no less than the Fashion Street of Mumbai. The variety of clothes you find here are fascinating enough to make you buy few. This place is considered as one of the posh markets of Pune with over 450 stalls and well-to-do crowd. Fashion Street in Pune caters to your every need, from clothes to footgear. This place has a lot to offer to those who are interested in buying.
Phule Market (Mahatma Phule Mandai)
is a place in Pune to buy fresh fruits and vegetables. With best quality fruits and veggies that it offers, makes it one of the prominent vegetable markets of Pune. Built during British era, this open air daily market, Mahatma Phule Mandai, happens to be one of the most ancient markets of Pune that is a haven to a total of 526 stalls. This market also sells puja accessories and witnesses maximum crowd on weekends and holidays.
Bajirao Road,
which stretches from Puram Chowk to Shaniwarwada palace, happens to be an important location in main market of Pune. Although it is the furniture market of Pune, shops selling garments are also there. This place is the one-stop-shop to buy household furniture, domestic furniture and kitchen furniture, modular kitchens, and custom made furniture.
The Hong Kong Market Lane
is located in Deccan near the Garware Bridge and offers a lovely assortment of bags, clothes, accessories, books and footwear. This place is famed for selling foreign goods. You can find junk jewellery, for both men and women. Beaded bracelets, lockets, interesting watches with leather straps, huge dials, and sports watches are some of the stuff you can find here. Also caps, belts and apparel accessories from Nike, Reebok and Diesel can also be bought from here. Book stores, mobile stores, cosmetics shops, CD shops and painting stores too are all over the market.
Fergusson College Road
, popular as FC Road, is apparently one of the most sought after shopping and hangout destinations in Pune. This market is popular amongst younger generation as their favourite hangout and is the prime location for commercial establishments like shops, showrooms, hotels, restaurants, offices. Chains like Barista, Cafe Coffee Day, Subway and Monginis have their outlets here, which witness great rush. FC Road has a lot of book shops, sweet shops and garment shops selling stuff on reasonably low prices. You just can't afford to miss it.
Jangali Maharaj Road (J. M. Road)
,
or Jangali is named after Sadguru Jangali Maharaj who's "Math" or Ashram is situated on this road. It is one of the fairly well maintained roads in Pune. A lot of international brands have their showrooms and outlets on this road. This is the place where India's first Pizza Hut outlet was opened. It is still functioning and along with it a number of fast food joints and coffee shops have come up. Famous for its food outlets, this is one of the busiest places in Pune and a hit among college students.
In case you are living outside Pune and want to send gifts to your family and friends you can
send gifts to Pune online
through various gifting portals.