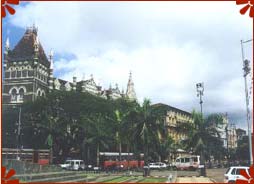 An old British fort was located at north of Colaba, so the area north of Colaba is known as Mumbai Fort. There are a lot of imposing buildings from Mumbai's golden period here.
Among many, the St. Johns Church is a striking building in the fort area, which is worth to visit. The church has been dedicated to the warriors who laid down their lives in the Sindh campaign of 1838 and the first Afghan war of 1843.
This area has now been established as a commercial centre of Mumbai. So the area is jam-packed with commuters, street stalls and the grand facades of 19th century British institutions and trading houses.
Mumbai is well connected by air, rail and road with all the important places within and beyond the state. City buses, local trains, and taxis are available for local transportation. Hotels are available in Mumbai.