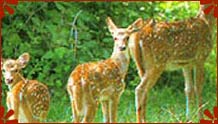 Bor Wildlife Sanctuary is located at Hingni in Wardha, Maharashtra. It covers an area of 61.10 sq km. It includes 3,237 hectares of Reserve Forest, 2,213 hectares of Protected Forest, and 660 hectares of Unclassified Forest.
Bor Wildlife Sanctuary is covered with southern mixed dry deciduous forest. Teak, ain, tendu and bamboo are the main species of flora in this sanctuary.
Tigers, panthers, bisons, blue bulls, chitals, sambars, peacocks, barking deers, chinkara, monkeys, wild boars, bears and wild dogs are the important faunas of the sanctuary.
April to May is the best time to visit of this sanctuary. Nearest railway station is at Wardha (35 km), while Nagpur is the nearest airport (80 km). Hingni (5 km) is the nearest bus station.