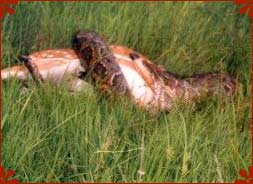 Adorned with a picturesque landscape and abundant vegetation, Nagzira Wildlife Sanctuary has 34 species of mammals, 166 species of birds, 36 species of reptiles and four species of amphibians.
Apart from it, different species of insects, ants and butterflies are also available here. Tiger, panther, bison, sambar, nilgai, chital, wild boar, sloth bear and wild dog are the main wildlife of Nagzira. Nearly 30,000 tourists visit this sanctuary annually.
Navegaon National Park (50 km), Itiadoh Dam (65 km), Tibetan Camp at Gothangaon (60 km) and Pratapgad (70 km) are the other attractions of this sanctuary.
For most of the year, temperatures are moderate and pleasant. April and May are the best time to visit. Nearest airport is at Nagpur, nearest bus stand is at Sakoli (22 km). Nearest railway stations are Gondia (45 km) and Bhandara (75 km).