Gavilgad Fort
It is located near the hill station of Chikhaldara in Amravati district. The Hindu rulers originally constructed Gavilgad fort. It is located at a height of about 370 ft above sea level (MSL). Historians believe that it is 200-300 years old, although the fort's history is not known till date.
Magnificent Forts of Balapur
The forts of Balapur are named after goddess Baladevi. Balapur has turned into a seat of pilgrimage and a tourist spot over the years. It is located between the two rivers of Mana and Mhais. This place is at a distance of 6 km from the railway station.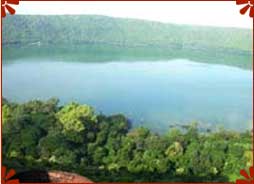 Lonar Lake
Lonar Lake is the third largest natural salt-water lake in the world. The lake has also a dam of 1800 m. It comes after Bosmatvi Lake in Ghana, which has a diameter of 10000 m and New Cubec in Canada with a Dai of 3500 m.
Vidarbha Pandhari Kundinpur
It is located on the banks of Wardha River in Tiwsa Tehsil of Nagpur. It is about 120 km from Nagpur. There organize an annual ten-day fair during Karthik Purnima that attracts not less than 50000 devotees.
Markandeya Temple
It is located in Chamorshi Tehsil in Gadchiroli district. The shortest route is via Milswali-Sakhri, which is about 183km. Markandi can be also reached by taking Nagpur - Chandrapur - Mul Road.
Naranala Fort
Narnala Fort is located in Akola district in Maharashtra. The fort is still in a good condition. The fort is located amidst forest. The fort is well maintained and is worth giving a shot. Neglect of the Archaeological Survey Department is visible in this fort. The fort has a fortress wall and beautiful bastions. Akola is well connected by road with the important and big cities of Maharashtra. Hotels are available in Akola.