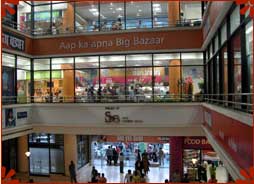 Nagpur being a major city of Maharashtra has a wide range of shopping places. This place possesses numerous shops and malls which guarantee fun and excitement to customers who get sufficient variety to shop from. From clothing to matching accessories and footwear to team up with them; you find it all here. Shopping at Nagpur is indeed pocket-friendly. Some of the places famed for shopping include Sitabuldi, WHC Road, Dharampeth Road, Residency Road (Sadar). Poonam Chambers happens to be a popular shopping mall at Chhindwara Road where branded, non-branded clothes can be purchased at reasonable rates. One can also buy shoes, gifts, cards, jewellery, and furniture from there. A nice place to pamper your taste buds it is; snacks and food with music sounds like a wonderful combination. Isn�t it? This mall also has a super bazaar where you can buy your daily use stuff.
Nagpur is world-famous for its oranges. It is claimed to be one of the most remunerative potential foreign exchange earning crops of not only of this region but also as one of the horticultural crops after mango and banana at national level in India. How about picking up some orange products like jam, jelly, marmalade and fruit squash? Nagpur is the best place to purchase these items of great quality at truly cheap rates, as oranges are cultivated here in 80000 hectares in the entire Vidarbha region with a total production of nearly 5 lac tons. Nagpur orange in Nagpur district is cultivated in 20,965 hectares area. Trades like cotton/handloom textiles, wood, tobacco, hardware and plastics have also attained new heights in the economically flourishing Nagpur. Nagpur is the haven to largest automobile manufacturers like Mahindra & Mahindra Ltd., Ashok Leyland Ltd., reputed steel makers Nagpur Engg. Co. Ltd (NECO), Sunflag Iron Steel Co. Ltd., Nippon Denro Ispat Ltd., largest paper maker Ballarpur Paper Mills, finest textile maker Raymond Ltd. (India), largest cement makers Associated Cement Companies Ltd., Ambuja Cements ltd., L & T Cement (Larsen & Tubro Ltd.), Birla Cement works (Manikgarh Cement Ltd.).
Itwari, Sitabuldi, Sadar and Dharampeth are known as shopping souks due to the large number of shops and road-side hawkers in these areas. Sunday market at Sitabuldi is considered good for buying household stuff. Moreover, Nagpur is a home to an affluent culture and heritage; it has to have a brilliant handicrafts and cottage industry. Even this industry also caters to the shopping lovers. The tourists dropping in to Nagpur carry with them pretty handicraft items with them as souvenirs. Mentioned below are some of the popular shops of Nagpur, known for their reasonable prices and rich collection.
For Jewellery