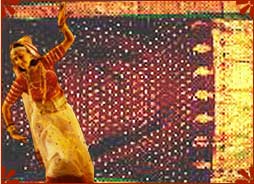 There is no special dress for any special holidays, celebrations or family get-togethers in Maharashtra. One can wear anything, which they afford to, and it depends on their choice and financial conditions.
But generally, for ceremonial occasions men prefer to dress the spacious looking Indian style long coat, called ackan, and chudidar pyjama or survar. It is slightly gathered at the ankles-end with bracelet-like horizontal folds. A folded woolen or a silk cap and cadhav or pump-shoes perfects the ensemble.
Women generally costly sarees like benaras brocade, chanderi, kanjeevaram and surat silka.