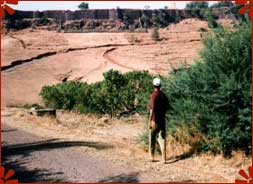 Rajmachi Fort is famous for trekking. The beautiful place is has exotic natural locations as well as it is a historic site. Rajmachi can be reached via the town of Lonavla along the Khandala plateau. Lonavla is an important train station on the Indian rail network. It is most convenient to start the trekking from the morning itself at around 11am.
Near Kalbhairavnath Temple, there is some space that can be used as a campsite. Those who do not want to stay outside can stay inside the temple. There is a tank, which is 100m away on a path to the left of the temple, water is available here. One has to cook his own food or buy some village-made food of Bhakri and Chutney. Once the trekkers reach the fort, one will realize that the climb was really meaningful.
Opposite to Kalbhairavnath Temple, there is another fort called Shreevardhan. The fort has lots of secret tunnels leading to battlements. There is a place called Manranjan behind the temple that gives one a nice view of the plains. Trekkers who want to explore the area can go the base of Manranjan where there are some simple rock-cut caves. Return route is easier to follow; still trekkers are to be careful while getting down from the steep slopes.