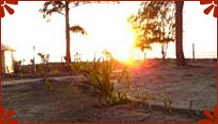 Not only for its extensive and tidy beach, Dahanu is also known for its vast chikoo fruit orchids. Dahanu is 145 km away from Mumbai that comes under Thane district of Maharashtra. And Thane district is again known for its 17 km long sea line that stretches from Dahanu to Bordi.
Bordi is half-hours drive away from Dahanu. Here, one can find endless beaches, which are very safe and beautiful. Although, it is quite warm during summer, the gentle breeze cools down the entire beach.
Mecca of the Zoroastrians is a place, which is very popular amongst tourists as there is a magnificent temple, which houses the sacred fire of the Zoroastrians. It is believed that this fire has been kept alive for almost a thousand years. The existence of Iranian and Persian culture further makes this place more exotic.
Nearest airport is at Mumbai, while nearest railway station is on Dahanu Road, which is around a three hours drive from Mumbai. Apart from the private and government hotels, locals also let rooms for accommodation.