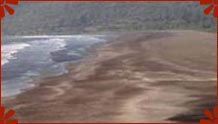 Shriwardhan is the place for seafood lovers and adventure buffs. Tourists can enjoy different varieties of seafood in this beach. Adventure lovers can go out with a small boat to explore the place where Peshwas were originally resided. This place is known for its gentle winds, soft sands and inviting waters.
The tranquil and picturesque beach is the speciality, which Harihareshwar is known for. This place has famous Kalbhairav Shiva Temple. Peshwa Smarak and Bankot Fort at Bagmandala is only about 4 km away from here.
Shriwardhan - Harihareshwar is nearly 200 km away from Mumbai. The nearest Mumbai-Goa highway point is about 60 km at Goregaon, which is about 170 km from Mumbai. The nearest airport is at Mumbai, while the nearest railway station is at Mangaon. State road service operates buses regularly to this place. Tourists can stay at the government resorts located near the beach.