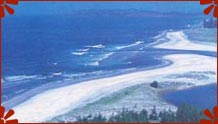 The waters of Ganapatipule are crystal clear and pristine. The entire stretch of beach is covered with fresh greeneries. The roadside sceneries on the way to Ganapatipule are captivating with narrow roads, red soil, roofed houses, clean courtyards, innumerable fruit bearing trees and casuarinas lining.
Ganapatipule is regarded as one of the most important beaches of Maharashtra. It is 375 km south of Mumbai. Fine, sifted, silver sands, a gentle lapping sea, which soothes frayed nerves, attracts large number of tourists are the features of this beautiful beach. It is regarded as a beautiful seaside resort, especially for families in Maharashtra.
One can see a glimpse of the entire beach, which is covered with white sand and blue waters from the top of the hill. Ganapatipule is also known as a pilgrimage site for its 400-year-old temple of Swayambhu Ganpati (naturally formed monolithic Ganesh). Malgund and Ratnagiri are other attractions, which are worth to be visited near this beach.
Ratnagiri is the nearest airport, while nearest railway station is at Kolhapur. Ganapatipule is well connected by road with all the places in Maharashtra. Government resort offers a wide range of facilities including dormitories and A.C suites. Tents and water sport facilities are also available over here.