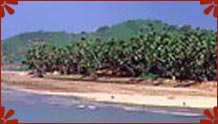 Marve, also known as Borivali is a village very close to Mumbai. Now this place has become quite industrialized, but its beauty remains the same. One can witness the remains of colonial time in Marve. Watching sunsets and sunrises is really appealing here.
Manori is famous for all night beach parties. Visitors prefer to visit the beach on moonlight nights. So, on these days, this beach is very crowded. Village folks serve food and let their houses on rents to tourists.
Gorai is so near to Manori, and this beach offers the countryside feeling to visitors. Although, the waters of Gorai beach are safe for swimming throughout the year, it is advised to avoid during monsoon because of its treacherous currents.
Tourists can reach Marve within an hour, as it is just 40 km from Mumbai. One goes up to Malad railway station (a suburban station on the Western Railway line) and proceed by road. A 15-minute ferry ride from Marve or Borivali will take one to Manori or Gorai. It is approachable by boat as well.