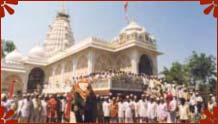 Pandharpur is located in a place, which is 65 km away from Sholapur on the banks of river Bhimarathi. This place is one of the most revered pilgrimage sites in Maharashtra.
Pandharpur preserves Lord Vithoba's image in a grand temple. Vithoba is a form of Krishna. The name Vithoba means Father Vitthala. Vitthala is said to have been derived from the word Vishnu in Kannada.
The worship of Vishnu - Vitthala at Pandharpur is derived mainly from the puranas and has been augmented by the contribution of the great Vaishnava saints of Maharashtra from the 13th to 17th centuries (Namdev, Jnaneshwar, Eknath, Tukaram).
The temple with its vast area has a total of six gates. The eastern entrance to this temple is known as the Namdev gate. The sanctum enshrines a standing image of Vithoba also known as Panduranga, Pandhari or Vitthala.
The image dates back to the 5th century. There are inscriptions in this temple dating back to the 13th century. Namdev, the 13th century saint was closely associated with this temple. Copper plate inscriptions of the Rashtrakootas place this shrine in the 6th century. There is also a shrine to Pundalik at Pandharpur.