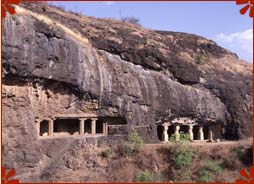 Ajanta caves are at a distance of 99 km from Maharashtra's Aurangabad district. It is believed that
Ajanta caves
started carving from 2nd century BC and ended at 6th century AD. The entire course of the evolution of Buddhist architecture can be traced in Ajanta. Images interpreting the life stories of Buddha and animal figures were carved out from the huge rocks.
Everything including the contemporary people, kings, slaves, women, men and children are seen in the Ajanta wall paintings interlaced with flowers, plants, fruits, birds and beasts. There are also the figures of yakshas, kinneras (half human and half bird) gandharvas (divine musicians), apsaras (heavenly dancers), which were of concern to the people of that time.
The total number of caves including the unfinished one is thirty of which five (9, 10, 19, 26 and 29) are Chaitya-Grihas and the rest are Sangharamas or Viharas (monasteries). The caves 1, 2, 16 and 17 can be rated amongst the greatest artistic works of human art.