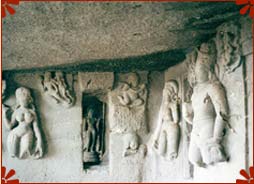 A major chunk of the caves in Aurangabad are Viharas. Total number of caves is twelve; out of which cave number 3 and 7 are the most fascinating ones. Cave number 1 to 5 are in the western group and caves from 6 to 10 are in the eastern group. Tantric influences are noticeable in Aurangabad caves.
Aurangabad caves are just a few kilometers away from the famous monument of Bibi Ka Maqbara. These caves are believed to be excavated between 2nd and 6th century AD. Aurangabad caves are carved out of the hillside and are a fine piece of architecture.
Cave number 6 showcases women with some exotic hairstyles and ornamentation and one can notice that these sculptures are still undamaged after so many years. A huge Buddha figure and an idol of Ganesh are preserved in this cave. Cave number 7 is regarded to be the most interesting as it has the figures of women scantily clad and ornately bejeweled are indicative of the rise of tantric Buddhism during this period.