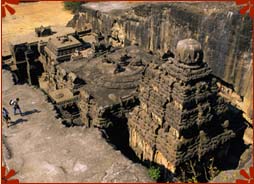 Ellora caves are in Aurangabad district of Maharashtra. Ellora showcases the experiments that had carried out by Hindu, Buddhist and Jain monks some 600 to 300 years back. It is believed that the structures were carved between 350 AD to 700 AD. There are 34 temples in total carved out of stone at
Ellora caves
, which can be divided into three eras - Buddhist, Hindu and Jain.
It took over five centuries in scooping out these monasteries, temples and chapels. The Hindu caves are a bit different from the Jain and Buddhist temples in creative vision and execution skills. Cave number 14 is a Shiva temple, depicting Him as a destroyer.
The Kailasnath temple, which is in the 16th cave, is known for its audacious feats in architecture. It is said that nearly 200,000 tonnes of rock had been removed in carving out this temple taking nearly 100 years. Its area is twice the area of the Parthenon in Athens and is 11/2 times higher. Mural paintings are found in 5 caves at Ellora.
Maharashtra government organizes Ellora Festival of Classical Dance and Music every year at these caves. Aurangabad is well connected by air, rail and road.